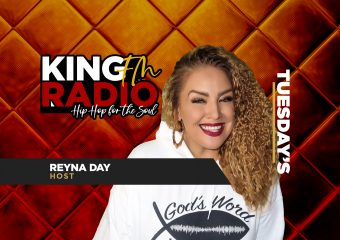 King FM Radio Show hosted by Reyna Day airs on Tuesday at 5PM PST. Listen Live!
Torey D'Shaun Raise the Meter
Porsha Love Ghetto ft Marc Stevens & Miles Minnick
Wande ft Teni & Toye – Come My Way Lyrics
MainMain Popeye ft Emcee N.I.C.E.
Come Back Profit feat. Josiah Ft. R-Swift
Can't Hear You feat. 1K Phew Ft. Aha Gazelle
Statement feat. Joey Vantes Ft. Nobigdyl, Aaron Cole and Jon Keith
Fieldhouse Freestyle feat. Nobigdyl Ft. 1K Phew
PLUTO Miles Minnick Ft. 1K Phew
ROCK THE BODY Emcee N.I.C.E. ft. Alonda Rick
Subscribe to our newsletter to stay connected.